Making the Dead Talk: Conference on Forensic Science
January 12, 2019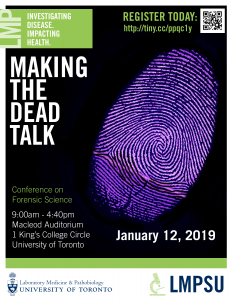 The LMPSU invites you to join our 7th annual conference on forensic science!
This year, we aim to provide a well-rounded discussion on the latest developments in this field, as well as valuable networking opportunities for those interested in pursuing a career within forensic science.
We have invited several highly esteemed speakers to give their insights and personal experiences regarding this highly requested topic, and attendees will be able to learn about both the technical aspects of forensic research and its real-life applications. We also included a poster fair session to present the diverse undergraduate talent in scientific research, as well as a Q&A period with a panel of experts to elaborate on your inquiries and comments. Everyone is welcome to attend and ask questions!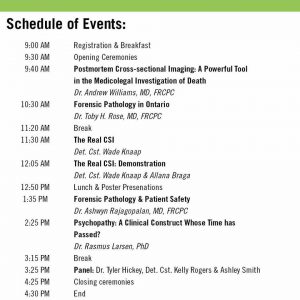 Check out our Facebook page for further details, including speaker bios and updates.
Submit your project abstracts here for the poster presentation: https://goo.gl/forms/nczzZiKToEojH38d2
---
Repair and Recovery: Facets of Fibrosis (January 13, 2018 – 9:00am-4:30pm)
Registration for our 6th annual conference is now closed and the event has now ended. The LMPSU would like to thank all our guest speakers for their preparation and taking the time to share some great insights from their current research with us. We also would like to thank the LMP department and volunteers for their help and support of the LMPSU in organizing this year's conference. Finally, we express sincere gratitude to all attendees of the event and we hope you enjoyed the poster presentations and talks from the conference. If you missed our event, please check our website and Facebook page in the near future for information about the next conference and registration details. We hope to see you next year!
Repair and Recovery: Facets of Fibrosis (RRFF) is the latest in the LMPSU's highly successful annual conference series. Featuring seven esteemed speakers in the field of fibrosis, attendees will have the opportunity to gain a well-rounded understanding of the diverse approaches people have taken to solve real-world problems in fibrotic disease. Over the course of the day, presentations will cover both the basic science done in a laboratory as well as the clinical science involved in therapy development in a wide variety of fibrotic diseases, ranging from renal and pulmonary fibrosis to cystic fibrosis. A concurrent poster fair will showcase the work of the talented LMP undergraduate and graduate students and allow attendees to network with one another and the speakers.
To get updates from Repair and Recovery: Facets of Fibrosis, please visit our Official Facebook Page. Remember to invite your friends and colleagues – everyone is welcome!
Please register for Repair and Recovery using Eventbrite. Lunch, snacks and refreshments will be available. If you have any dietary restrictions or other inquiries, please email us at lmpexecs@gmail.com.
Event Schedule (please visit our Facebook Page to get updates on the Speakers!):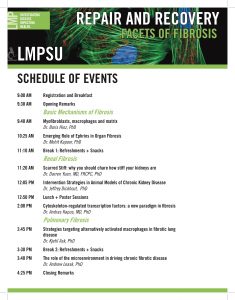 ---
Beyond the Lancet: Conference on Surgical Technologies and Applications to Disease (2017)

Registration for the 2017 conference has now closed. Thank you for joining us and please click here, to revisit highlights from the 2017 conference.
---
We invite all to join us on January 28th, 2017 from 8:00am to 5:00pm for the annual conference organized by LMPSU.
Join the Laboratory Medicine and Pathobiology Student's Union in our fifth annual conference – Beyond the Lancet: Conference on Surgical Technologies and Applications to Disease. This one-day conference held at the University of Toronto will feature the world's newest surgical innovations and techniques in the context of human disease.
From routine appendectomies to organ transplantation, surgical interventions have saved and improved the lives of many. Surgical techniques are no stranger to revolution: from primitive sharps to modern lasers, advances in technology have equipped surgeons across the world with safer and more accurate tools. Recent advances in 3D printing, imaging, and various other techniques promise to shift the surgical field beyond the lancet, towards the future.
Join us in exploring the frontier of surgery and the operating rooms of tomorrow. An exciting list of specialist speakers ranging from surgical imaging to reconstruction is set to deliver a day teeming with phenomenal presentations. Here, you will find opportunities to network, question, and immerse yourself in all things surgical.
List of speakers (not listed in any particular order):
Dr. Michael Laflamme 
Dr. Kazuhiro Yasufuku
Dr. Thomas Forbes
Dr. Rita Kandel
Dr. Tirone David
Dr. Christopher Forrest
Dr. Shaf Keshavjee
Dr. Mojgan Hodaie
To register, visit https://www.eventbrite.ca/e/beyond-the-lancet-conference-on-surgical-technology-applications-to-disease-tickets-30152424714
More information:http://www.lmp.utoronto.ca/undergraduate/programs/arts-science-specialist-program-pathobiology/beyond-lancet-conference
Follow our Facebook page for updates at https://www.facebook.com/beyondthelancet/
Like us on Facebook at https://www.facebook.com/beyondthelancet/
If you have any questions, please contact us at lmpexecs@gmail.com